Thursday, June 15, 2006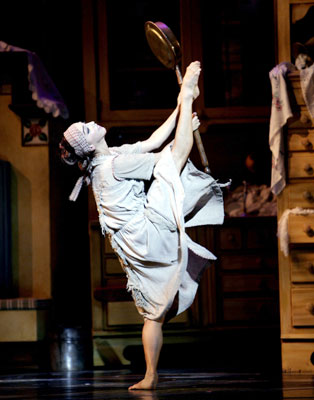 "

A

ct I:

Not so very long ago, in a suburb of a rich and fashionable capital city, a young orphaned woman called Cinderella lived with her Stepmother and two ambitious Stepsisters." So begins the program for James Kudelka version of Cinderella performed by the American Ballet Theater. We saw it at the Met Saturday night and were blown away. Prokovfiev's score is beautiful and the choreography

was GENIUS. The ambitious Stepsisters stole the show, they danced the entire thing off ballance like a couple of elegant clods stumbling around on pointe(!). Cinderella danced the first act barefoot, in second act the fairy godmother visits with "Blossom," "Petal," "Moss," and "Twig," who bring Cinderella her ball gown and point shoes and teach her to dance. The shoe at the center of the story becomes a metaphor. Once Cinderella gets her slippers "the girl rises--literally--into womanhood. Dancing on pointe demonstrates growing mastery at the same time that it poses formidable new challenges." The program goes on to explain, "a dancer on pointe is a kind of miracle: an entire human being skimming along with the smallest possible speck of contact with the dull, sublunary earth. That effortlessness is only possible after endless hours of rigorously disciplined effort. "

When the prince sets off on his globe spanning hunt to find the owner of the slipper he encounters a Nordic skier (on skis), a Spanish senorita (in flamenco shoes), a Dutch skater (on rolling clogs), a giggling geisha (barefoot), in the final act, Cinderella prances around the kitchen lopsided with one foot en pointe, the other bare. It was all pretty funny and well done.

We took my 7 year old neice who was totally blissed out. More dance reviews coming up, we're going to see Layla Childes and Sonya Robbins's new piece. Check out this massive and AMAZING REVIEW in the times about the piece they're doing this weekend, it sound brilliant.