Sunday, February 26, 2006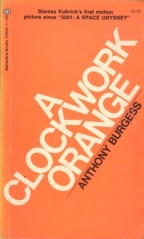 Y

esterday we celebrated Anthony Burgess's birthday with a small celebration at The Mounds.
If you haven't read A Clockwork Orange since high school it's worth revisiting. Burgess was a genius, we throw that word around a lot but in this case it's actually true. The invented language is brilliant, theres a lot of humor in the book that I'm just now getting and of course it's meant to be a disturbing vision of a violent future. This book really resonated with me when I was a lil shaver, I was shocked by it, but at the same time it opened up a world of possibilities, like hey, you can actually make art that's that sick?

Also the sound track to the film is AMAZING. There are two versions out on CD and they look almost identical. One is put out by Warner Brothers and is called, A Clockwork orange/Music From the Soundtrack the other/ better one, the one you really need to hear is the Complete Original Score by Wendy Carlos .
Comments:
Popp Acorn just wrote me a note recomending "Anthony Burges' book length poem called "MOSES". The part I would read was about the death of the first born and the angel of death flying over the houses and the screams are heard from the Egyptian houses....etc etc. It is a favorite of mine---very eerie. Burgess is great with the english language and from the poem I am sure he knew the biblical Hebrew---he was jewish. You should read that part from 'Moses' again...or read the whole book which is not that hard to do and very dramatic. He does feel the violence in the story and in the language. I never read Clockwork. We are cetainly heading into a more violent world....Think of all those African kids who learned only how to kill...all those Chinese men who wont have the woman partners to help civilize them and who will have to join ultra nationalistic military grps to help deal with the male aggression....and all those Arab kids who are being brought up with the life goal of killing Jews, Europeans and Americans and only then can they get laid in heaven. Poor suckers who will die and never have enjoyed sexuality. All this is a mixture that will increase the V/P (violence potential) of the world. Remind me to tell you about the real origins of the Crusades---talk of violence....
Popp acorn"
Post a Comment
<< Home